Caloudi CMP (8iSoft CMP) Now Available In The Microsoft Azure Marketplace
Microsoft Azure customers worldwide now gain access to Caloudi Cloud Management Platform(Rename to 8iSoft CRP) to take advantage of the scalability, reliability, and agility of Azure to drive application development and shape business strategies.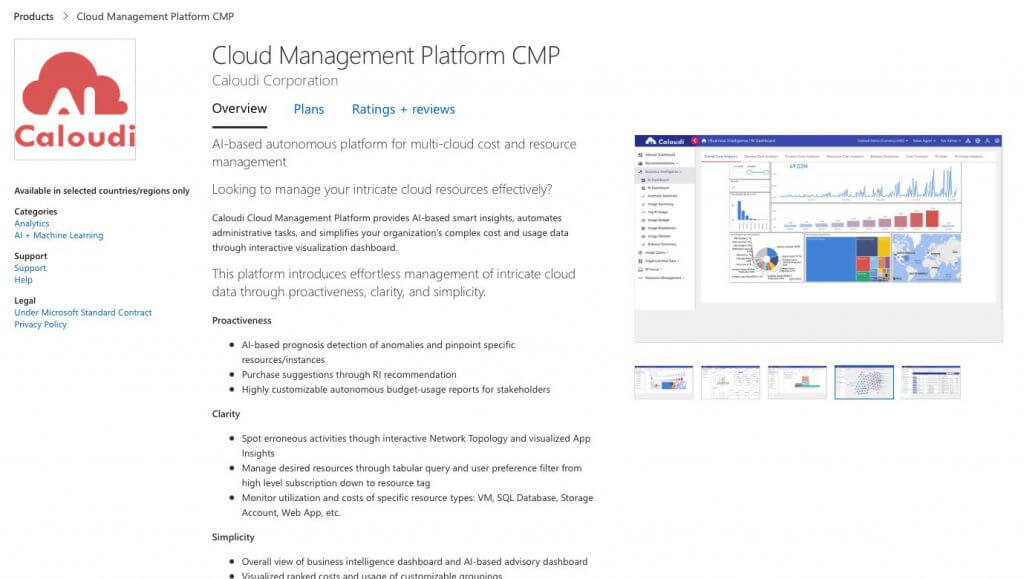 San Francisco, CA, USA — March 8, 2022 — Caloudi Corporation, a leading cloud-based ISV, today announced the availability of Cloud Management Platform (CMP) in the Microsoft Azure Marketplace, an online store providing applications and services for use on Azure. Caloudi Corporation customers can now take advantage of the productive and trusted Azure cloud platform, with streamlined codeless deployment and management.
Cloud consumption has reached its all-time high, with more organizations migrating to the cloud because of the COVID-19 pandemic. As time has progressed, developers and engineers have had to start fully utilizing various cloud-native resources.
Enterprises and corporations with a high level of cloud adaptation often struggle with the inability to identify anomalies and manage resources effectively while saving on cloud costs. Caloudi's flagship product, Cloud Management Platform, provides AI-based smart insights, automates administrative tasks, and simplifies organizations' cost and usage data through an interactive visualization dashboard. Despite data quantity and complexity, CMP is able to cater to the managerial needs of large enterprises with yearly Azure usage more than 33 million USD while providing smart cost-saving recommendations. Analyzing detailed usage and cost breakdown for cross-group projects is no longer tedious when creating custom filters of resource tag-level precision. The intelligent, intuitive, and interactive CMP serves as an essential aid to eliminate cloud management barriers of Azure and other multi-cloud customers.
Now is available to Azure users worldwide to experience
"Caloudi Cloud Management Platform (CMP) has been providing business managers of many regional organizations with an AI-based intelligent solution to plan cloud resources and to control costs," said James Ying, Vice President of Caloudi Corporation. "Now, we are thrilled to expand global accessibility of Caloudi CMP through our Azure Marketplace offer."
Jake Zborowski, General Manager, Microsoft Azure Platform at Microsoft Corp., said, "We're pleased to welcome Caloudi Corporation's Cloud Management Platform (CMP) to the Microsoft Azure Marketplace, which gives our partners great exposure to cloud customers around the globe. Azure Marketplace offers world-class quality experiences from global trusted partners with solutions tested to work seamlessly with Azure."
The Azure Marketplace is an online market for buying and selling cloud solutions certified to run on Azure. The Azure Marketplace helps connect companies seeking innovative, cloud-based solutions with partners who have developed solutions that are ready to use.
Learn more about Caloudi's Cloud Management Platform at its page in the Azure Marketplace.
About Caloudi Corporation
Founded in 2018, Caloudi Corporation develops and delivers intelligent cloud solutions to industries and corporations beginning their public cloud adoption journeys. Built upon a versatile R&D team located in the USA, Canada, and Taiwan, Caloudi yearns to elevate consumers' cloud adaptation quality through cloud management software innovation and bridge the gap between on-premesis and cloud. Caloudi's dedication to simplify the cloud journey shines through in its activities as an ISV that develops corporate-level SaaS solutions, as a Microsoft gold CSP partner, and as a Microsoft Advanced Specializations (ASP) partner with migration and consultation capabilities.
For more information, contact:
Caloudi Corporation